Expert Dental Services
for Your Pets
Your pet wants a clean, healthy mouth just as much as you do. We will look inside your pet's mouth during every wellness exam, show you any areas of concern, and recommend a dental appointment when necessary. Our goal with pet dentistry is to prevent infection and bacteria buildup in your pet's mouth, which, left untreated, can spread to your pet's organs. The most effective way to accomplish this is through professional dental cleanings under general anesthesia.
Why General Anesthesia?
The use of general anesthesia allows us to examine your pet's mouth and perform our comprehensive dental treatments safely and thoroughly. We require a physical examination and blood work within three months of any procedure needing general anesthesia. If we detect liver or kidney problems, or a heart murmur, for example, this doesn't mean your pet cannot undergo anesthesia. It means we will adjust the medications (and possibly the protocols) we use. Please visit our anesthesia and patient monitoring page for a full explanation of our safety measures.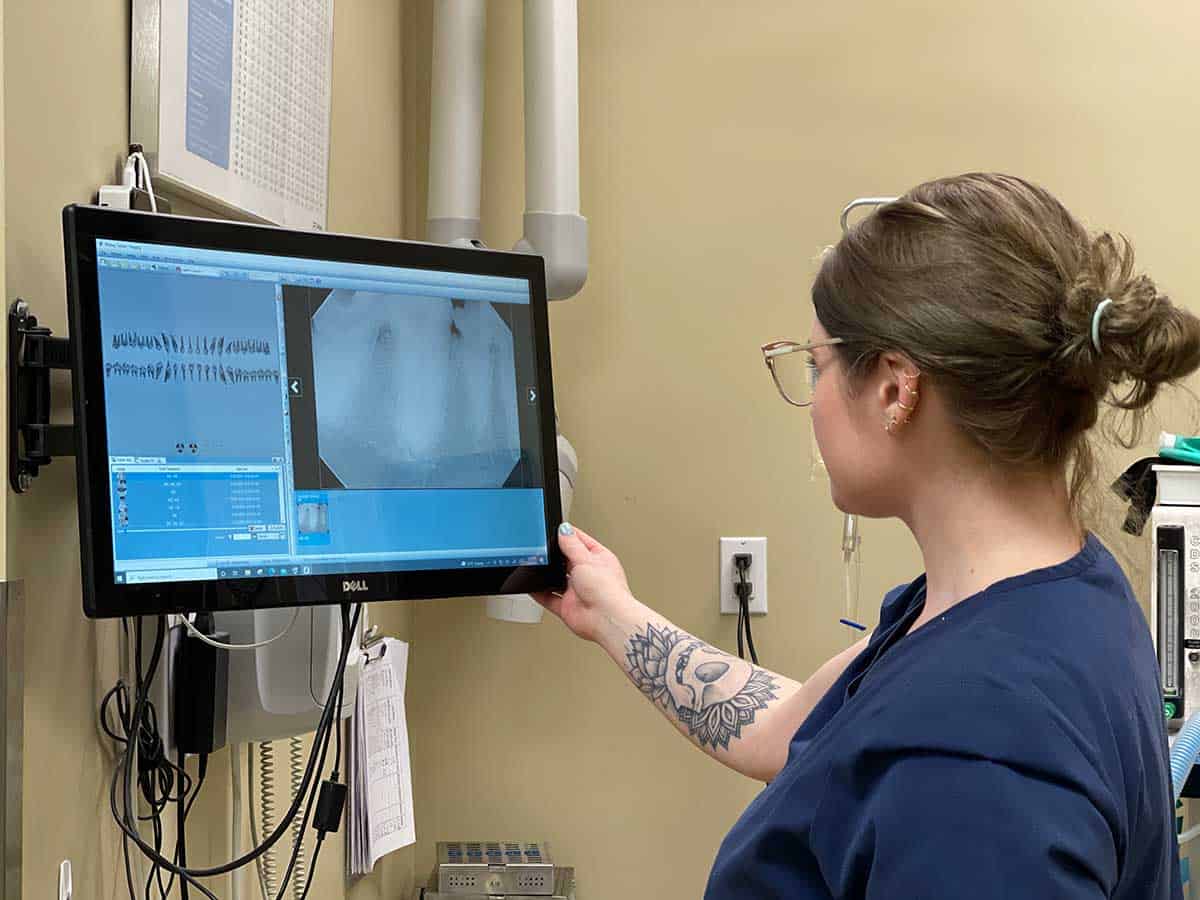 Comprehensive Dental Services
We understand that cost can be a concern. We will provide you with a quote for the dental cleaning ahead of time, but this will not be the final cost of your pet's visit. It is impossible to know the extent of any pet dental work prior to full-mouth X-rays and a thorough examination. After the cleaning and X-rays, we will call you to explain how much each extraction will cost.
Pets requiring extensive dentistry (such as root canals or endodontics) will be referred to a nearby, board-certified veterinary dentist.
Your Pet's Recovery
We do all of our dental procedures in the morning and most pets leave between 3 p.m. and closing. You will be amazed at how great your pet's teeth look after a professional cleaning!
We will perform a free recheck 2–4 weeks after your pet's dental visit to make sure that extraction sites are healing properly. We are happy to answer any questions you have about at-home dental hygiene and demonstrate how to brush your pet's teeth.
Choosing Safe Dental Products
When choosing products such as chews or water additives that are intended to help control plaque and tartar, we strongly encourage you to check the product label for VOHC Registered Seal. The Veterinary Oral Health Council is an independent group that evaluates products used for dental hygiene. Choosing products with the VOHC seal will give you peace of mind that the products you're putting in your pet's mouth have met VOHC's standards for safety and effectiveness.
---