Veterinarian
Dr. Marie Nation, DVM
Dr. Nation graduated from the University of Illnois – Urbana in 1981 with a Bachelor's Degree in Electrical Engineering (honors). After reevaluating the priorities in her life, she fulfilled her life's ambition by receiving her Doctorate in Veterinary Medicine from the University of Minnesota in 2004. She worked at Animal Wellness Center in Maple Grove until 2008 when she founded Pet Nation Veterinary Care Center. It has certainly been quite an experience watching the clinic grow over the years. She enjoys practicing general veterinary medicine, especially with a dedicated and caring team who are always looking to improve their clinical knowledge and skills.
After meeting Dr. Nation in the clinic, you will have no doubt that you picked the right place for your pet! Not only is she extremely thorough while examining your pet, she excels at communicating with her clients. You will understand what is going on with your pet, and if you have any questions she will happily answer them. She excels at researching and finding new and innovative ways to treat illnesses and injuries that we might see in the clinic. Dr. Nation will make sure you get all the best options for your furry family member!
She and her husband Gary share their home with Fiona (a Cardigan Welsh Corgi), Edward (a Pembroke Welsh Corgi), Picard (a Papillon) and a few sleepy cats. Dr. Nation is very grateful that so many clients have entrusted their cherished pet's care to Pet Nation.
Dr. Rossi
Technicians
Lynn

Lead Technician, Certified Veterinary Technician
Born and raised in Southeast Minnesota, Lynn has had a love for animals her whole life. Lynn comes to us a Certified Technician, graduating from The Medical Institute of Minnesota (now Argosy University) in 1991. Her favorite part of veterinary medicine is hands on nursing care and helping the animals recover after illness, injury, or surgery. She finds a lot of importance in compassion and keeping your pet feeling safe and comfortable. Lynn loves continuing education courses and gaining more knowledge to bring to her position as a technician. Lynn is responsible for our in-house pharmacy and is continually looking for the most economically friendly and safest drugs for your pets. She communicates regularly with the veterinarians to help your pets get healthy as quickly as possible!
Lynn has a passion for horses and enjoys horse back riding. She has a pug named Gus Gus and a standard poodle named Truman. She also has four kitties named Stout, Amelia, Boris, and Butternut.
Christy

Veterinary Technician
Jolee

Certified Veterinary Technician
Jolee graduated from the Veterinary Technician program at Argosy University in 2018. She then completed her required examinations to become a certified veterinary technician. She currently works full time at the University of Minnesota West Metro Equine Practice and is working towards being specialized in equine medicine. She works part-time at Pet Nation. Jolee is the radiation safety officer for both Pet Nation and the U of MN. She enjoys doing advanced imaging to help diagnose difficult cases.
Jolee enjoys riding he horse Bee, playing with her Golden Retriever mix Red and her German Shorthair Pointer Bandit, and cuddling with her cats Chubs and Alfonzo.
Kristin

Certified Veterinary Technician
Kristin graduated from Globe University in 2004. She enjoys caring for our senior citizen patients and educating clients.
She shares her home with 2 dogs called Turkey and Darnell. She also lives with three cats in their golden years called Sugarpuss, Tiggy Pop, and the ex-clinic cat Taro.
In her spare time Kristin enjoys spending time with her family, visiting local wineries, and checking out the local music scene.
Reception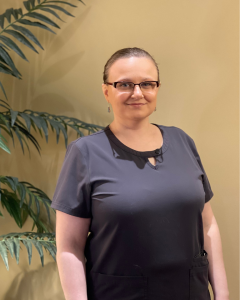 Alyssa

Receptionist
Alyssa has worked in customer service for several years before becoming a receptionist at Pet Nation in the winter of 2021. While she is the newest member of the receptionist team, she is eager to help you with securing appointments, records, or getting your questions to the right people.
When she is not working she likes to spend time with her various hobbies, including crocheting toys and such for her two cats. Alyssa has worked with Pet Nation in the past supplying homemade goods.
Lara

Receptionist / Certified Veterinary Technician
Lara is excited to be able to work in the field that she loves and in the community that she lives in as a receptionist at Pet Nation. She graduated from the University of Minnesota Waseca in 1992 with a Veterinary Technology degree. Lara has 30 years of experience in the veterinary field. She has filled many different roles in a veterinary clinic. She is a certified veterinary technician.
Lara has lived in the STMA community for the last 25 years with her husband, three children, a dog named Rizzo, and a cat named Norman. Her hobbies include traveling and being a dance, lacrosse, and hockey mom.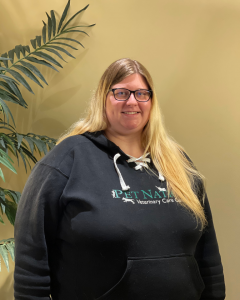 Lauren

Receptionist
Lauren graduated from Monticello High School in 2013. She has been working here at Pet Nation since July 2014. When you call the clinic she will most likely be the one to help you make an appointment, get vaccination records, transfer you to a technician or doctor, and take messages as needed. Lauren is very welcoming when you come into the clinic and will assist in any way she can. If you plan on boarding or grooming you pet, just let her know and she will make sure your pets vaccination records get sent over right away!
When Lauren is not at the clinic she is enjoying her time raising her daughter Charlie with her boyfriend James. They also have a 14 year old kitty, Monti, who entertains them at home! She has always had a never-ending love for the fur ball members of the family ever since she was a little girl.